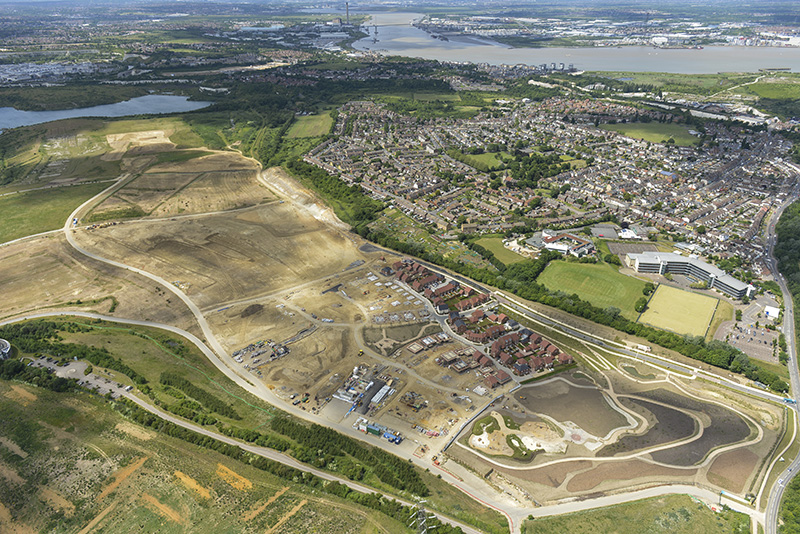 Residential infrastructure and placemaking firm, Henley Camland, part of the Henley private equity group, has agreed to purchase a significant portion of Eastern Quarry, Ebbsfleet, one of the UK's largest residential schemes, from Land Securities.
An integral part of Ebbsfleet Garden City, Eastern Quarry has outline planning permission for up to 6,250 residential units and is comprised of three main 'villages' situated across 500 acres of former quarry land. Following completion of all placemaking and serviced land works, Eastern Quarry is anticipated to have a projected sale value for all residential units of around GBP1.5 billion.
Henley Camland has acquired the two additional villages at Eastern Quarry, which have capacity for a further 4,700 homes. The sale will complete when minor improving amendments to the existing planning consent are achieved.
The deal represents a highly significant first acquisition for Henley Camland, which was formed as a joint venture in June 2015, coupling Henley's financial strength and expertise with the placemaking, infrastructure delivery and land purchase knowledge of Camland Projects. In addition to developing the balance Camland will continue to provide the placemaking and infrastructure delivery support to Land Securities at Castle Hill, in the advisory role they have had since 2012.
The high profile Eastern Quarry scheme, which was identified by Chancellor George Osborne in 2014 as a site for a new garden city, forms an important part of the government's aim to increase housebuilding and combat the UK's housing crisis. Henley Camland will now commence with delivering the necessary infrastructure to provide ready-to-build-on serviced land parcels for housebuilders in the remainder of the site, building on the commitment Land Securities has already made by developing serviced land at Castle Hill.
Ian Rickwood, CEO of Henley, says:
"In line with our philosophy of being an entrepreneurial business that backs entrepreneurs, we established Henley Camland with the goal of becoming a major new player in the serviced-land placemaking market. This landmark first acquisition is a real statement of our intent and paves the way for us to work towards our long term goal of creating 20,000 lots across the UK and contributing in the effort to help fix Britain's chronic housing shortage. With Camland having worked in an advisory role for the last four years at Eastern Quarry, we have complete confidence in the site's potential and look forward to building on the good work that Land Securities has already carried out."
Land Securities has already agreed contracts with a raft of housebuilders including Ward Homes, Persimmon, Charles Church, David Wilson and Taylor Wimpey at the site taking the total number of committed homes to 1,550 of which 375 are affordable.
Henley Camland, which will be investing around GBP200 million, will be carrying out significant infrastructure works to the remainder of the Quarry, including levelling former quarry land, developing roads and creating a new lake. The firm will also be delivering a number of neighbourhood retail, leisure and community facilities, including two primary schools and a secondary school.
Situated to the east of Dartford and to the west of Gravesend on the south of the Thames Estuary, Eastern Quarry benefits from Ebbsfleet's outstanding transport connectivity. Ebbsfleet International Railway Station, which opened in 2007, provides high speed services to Kings Cross St Pancras in under 17 minutes and Stratford in under 12 minutes, as well as Eurostar services to Europe. The site is also situated a few miles from Bluewater shopping centre, the fourth largest shopping centre in Britain. Eastern Quarry falls under the jurisdiction of Ebbsfleet Development Corporation, which is responsible for the overall delivery of Ebbsfleet as a new destination.
Paul Spooner, interim chief executive of the Ebbsfleet Development Corporation, says:
"We are delighted to see a new investor and we welcome our new partners to the Garden City. With this new commitment and their planned investment we will see further evidence of a step up in the pace of delivery of new homes and amenities. This month we approved the first primary school for the area and two developers are now on site ready to deliver another 400 homes. We are working with developers and landowners to enable new development to be advanced, not just in Castle Hill, but throughout the whole Garden City, where we will have significant capital investment to deliver essential infrastructure."