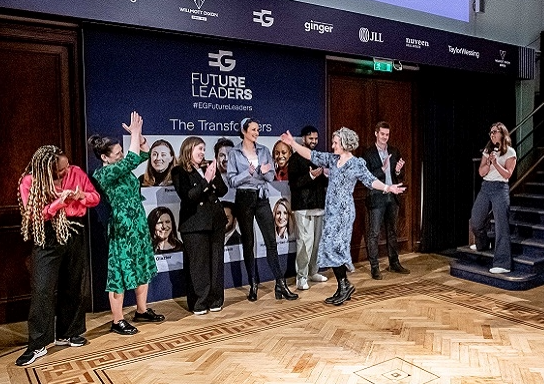 WATCH There's a wonderful gift that the real estate industry has. It is the gift of effecting change. And nothing highlighted that more than six powerful speeches delivered by EG's latest cohort of phenomenal Future Leaders.
Labelled The Transformers, these six individuals, all representing the wonderful diversity there is in the sector, stood in front of a crowd and delivered their 10-minute Ted-style talks without a single note.
However, what they really provided was the power to make change. The audience was moved. Each taking away an action (or six) to showcase the difference this industry can make. These six individuals are the bright future the real estate industry has.
And here you can find out why. 
Ese Emefe, leasing agent, JLL
Labels can help guide us. They give us a definition of something. A blanket of security so we can name something. But for JLL's Ese Emefe, her label created something of a barrier. She revealed to us how the label "apprentice" made her very separate from those with the label "graduate" and through her talk she reminded us that inclusivity comes from breaking down barriers, not putting them up.
"I could never be included in an environment which really hadn't been designed to have any space for me, despite the fact there had been all this work to recruit apprentices. That stayed with me. It stuck with me, and it led to me, and a few other apprentices, approaching HR and requesting that we have an apprentice network. It worked."
Hattie Charlier-Poole, development manager, Henley Investments
Have you ever thought about the impact that development has on our ability to stay alive? Probably not as viscerally as anyone who listened to Hattie Charlier-Poole's Future Leaders speech. The crowd was hit hard with the realisation that if real estate doesn't take its role in creating and protecting biodiversity, we run the risk of denying the now one in two of us who will have cancer, the life-saving drugs they need.
"Just over a year ago, I was diagnosed with breast cancer. The first part of my treatment was 16 weeks of chemotherapy.  I had two different chemotherapy drugs. The first one is called Epirubicin. It is bright red; it makes you really sick but it is very effective. It comes from a product of the soil fungus streptomyces. The second one is called Paclitaxel, and it is a very widely used cancer drug. It is a neurotoxin which comes from the bark of the pacific yew tree. Without those two species, without the diversity of life on this planet, I wouldn't even be here today talking to you about biodiversity."
Rosie Oulton, senior associate, Nuveen Real Estate
When Nuveen's Rosie Oulton took to the stage, a picture of Harry Potter's "room" under the stairs flashed up. Then a shot of a typical office facilities space – the broom cupboard. That forgotten space we soon admitted we all saw as having no value. Until the end of the speech. The whole crowd leaned in to hear about what happens if we listen to everyone, if we think about all workplaces as equal and if we give as much care to that cupboard under the stairs as we do to the executive office. 
"I want you to look at the buildings that you own. That you create. Perhaps even the buildings that you just work in yourself. I want you to look around. And really open your eyes to. See the workplaces of everybody who works. In that building and ask yourself. Have we got a cupboard under the stairs right here? And if we do. What can I do to change that?"
Belawal Hussain, product lead, Roundhill Capital
You know that any talk that starts with a blast of Britney Spears is going to be a good one. And that couldn't have been more true for Roundhill's Belawal Hussain, who taught us that there is great power in vulnerability and admitting you are not always OK. His lesson for the audience was that we all have our adversities. We all have moments of pain or shame to deal with. But none of us are alone in that. And once we realise that everything becomes a little bit easier. A lesson for life – and for the sector.
"This is where Britney comes back, right? She's a superstar. She's had adversities pretty much plastered all over the internet, social media. For me, that is brave, that is vulnerable. And it's probably helped hundreds and thousands of people to actually realise that you can have these issues and still be an amazing person." 
Charlotte Glazier, programme manager, Islington Council
The E and S of ESG were a common thread throughout this cohort of Future Leaders' speeches, with both often intertwined. Islington Council's Charlotte Glazier made a rousing call to action to green up our cities. And, importantly, taught the audience to never, ever give up on an idea. A lockdown-induced project led her to achieving funding for a project that initially looked set to be pushed back by barrier after barrier. 
"If you have an idea and you believe in it and you're speaking to someone and it's not resonating, go and speak to somebody else. Keep it centre stage, keep honing it and keep looking out for that opportunity to run with it. Because when you find that opportunity, you need to be ready. You need to go for it. And that's how you're going to make it happen."
Rhys Bufton, senior associate, Taylor Wessing
Never before at an EG event has the word bullshit been uttered more than it was in the closing speech at Future Leaders. Taylor Wessing's Rhys Bufton called it on himself and on all of us. Bufton, a man from the Welsh valleys, knew he was born to lead even though he grew up in an area where there were no professional role models and the promoted career option of choice was the Army. He was going to change that. He was going to be that role model. Or so he said. Until asked if he'd actually done anything. Too busy, too stressed, too important, was the excuse he gave for inaction. Until a voice inside him called bullshit.
"I know what a lot of you are thinking. Because it's exactly the same things I thought. I'm too busy. I don't have the time; I've got a high-pressure job and I cannot do it. And this is my time to call bullshit on all of you because I've shown you how simple it is. I've shown you how easy it is. Take personal responsibility and do something to help foster this born to lead mentality in kids across the UK."
23rd June 2021
Read the original full article at EG.