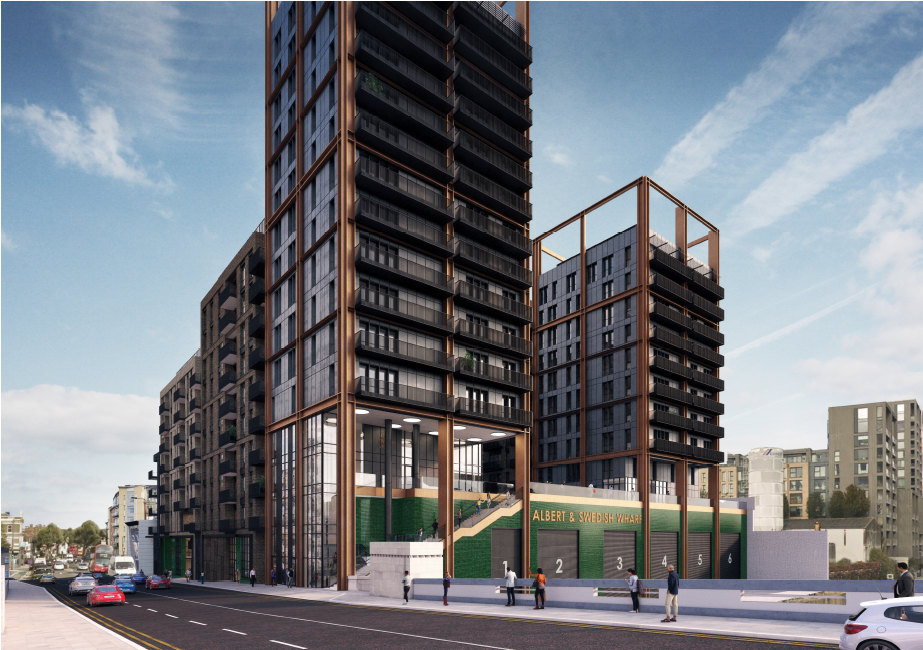 At a site by the River Thames in Fulham, SW6, the stage is set for Henley Investment Management's first logistics and residential scheme.
If the investor's proposals are approved by Hammersmith & Fulham Council later this year, the Albert & Swedish Wharf scheme will provide a 55,000 sq ft logistics depot with 285 flats above it, overlooking the river. Henley is working on the plans with the Port of London Authority, which will take the long leasehold if these are approved.
Warwick Hunter, Henley's managing director of development and head of ESG, told EG:
"The Holy Grail is the fact that you've got an Amazon Prime barge floating in from Tilbury with a load of packages [to distribute] into the wharf, and then [doing] last mile in west London.
The project is just one of the ways in which Henley is seeking to grow its pipeline through large-scale, mixed-use developments.
Hunter said: "We are not going to compete with traditional housebuilders on small-scale residential schemes, whether that is 200 to 300 homes. Ultimately, it is best to let housebuilders do what they are good at.
"We are looking at schemes focused on the intensification of land use, whether it is a blend of industrial and resi, or retail and resi – that is what we are going to focus on."
A "bizarre world"
Hunter said Henley is looking to partner with local authorities to reimagine underperforming retail spaces. As a master developer, it aims to convert difficult sites while taking the risk through vacant possession, land assembly, planning and procurement.
However, despite a huge amount of capital chasing the living sector, Hunter noted that forward funders are still reluctant to take on the development risk.
"There are huge swathes of land and underperforming assets, not only in London but certainly in the regions, that suit residential, mixed-use, and regeneration," said Hunter. "But it is difficult to get to the point of having forward funders [believe] all the risk is off the table and [presenting] the final product.
"Delivering those schemes to the point of taking it to forward funders is the place we are trying to play in."
Getting capital allocators to fully understand mixed-use schemes is the challenge that Henley faces. Hunter said that, for the first time, the property sector is at an "inflection point" – creating a "bizarre world" where most investors are not aligned with other stakeholders.
That point is characterised by a divide between developers and local authorities, which prioritise building communities and sustainable places with a mix of uses, and investors that are still focusing on allocating capital to individual uses.
"You have got this bizarre world where local authorities are crying out for rejuvenation of town centre and high streets by saying we need a mix of uses. You have developers all saying, 'that's perfect because that's how development should work' and we have capital allocators saying, 'we can't get our heads around that'.
While it is a tricky issue to resolve, Hunter said the situation could improve if players within the residential, offices and retail sectors communicated more with each other to make each one work optimally in every scheme.
On Henley's part, it appointed Will Rowson as a senior adviser earlier this year to grow its international relationships and reach out to investors to raise capital for underutilised sites identified for redevelopment.
Flexibility to change
Henley's core strategic focus is to bring forward major mixed-use schemes over the next 10-15 years. Pointing to its schemes in Manchester and Birmingham, Hunter said Henley will deliver its masterplanned developments "come hell or high water".
He added: "With masterplan developments, you are more resilient cyclically. At scale, you can pivot if the market conditions change. You've got the scale to change use, change tenure, change track but still actually hold on to what's important in terms of creating the place."
Hunter said if the build-to-rent market is not as viable in 10 years as student accommodation or other uses, Henley is able to straightforwardly change the offer.
In recent years, Henley's strategy has involved acquiring struggling retail assets for conversion. Its developments include Regent Retail Park in Salford and Ebbsfleet Garden City in Kent.
The developer also bought Martineau Place in Birmingham in a joint venture with Sixth Street in 2021, where the joint venture plans to redevelop 300,000 sq ft of retail, food and beverage and healthcare space into 600 units and 600,000 sq ft of offices.
Connecting places
When it comes to acquisitions, Hunter said transport links are critical. "It's all about connectivity," he said. "The sites we have in Birmingham and Manchester are so well located that it is almost a no-brainer.
"They don't need to be a retail warehouse park or shopping centre. If you are near infrastructure nodes and hubs, then regeneration really works."
According to Hunter, the only way to rejuvenate town and city centres is through a mix of workplace living, retail and community uses. However, like its proposed Albert & Swedish Wharf development in Fulham, schemes must provide the "right kind of change" for the surrounding community.
For Hunter, developers must look to increase jobs in town centres as well as providing better-quality open spaces and both better-quality and more affordable housing.
"[In regeneration, there] has to be something for the established community. It's not like you're going in to create a new community in the middle of nowhere.
2nd June 2023
Read the original full article at EG.