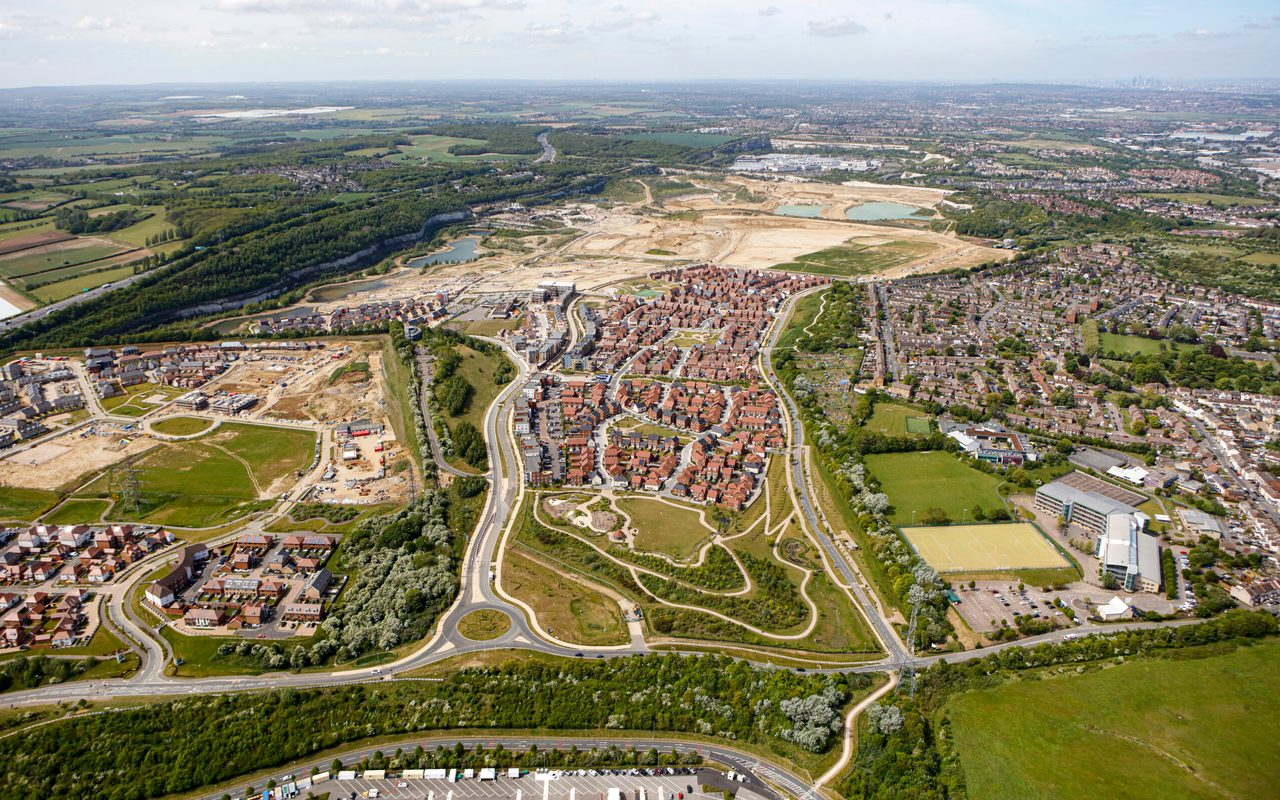 Henley Camland has concluded a series of deals at its largest project Whitecliffe, which spans 500 acres across a former quarry at Ebbsfleet Garden City in Kent.
The company, which is part of Henley Investments, has exchanged on the sale of almost 1,000 housing plots in Alkerden, one of the three new villages emerging at Whitecliffe. The plots have been sold to Redrow Homes, Bellway Homes and Westerhill Homes, all of whom have already delivered homes at Ebbsfleet Garden City.
Glen Wells, Land Director at Redrow South East, which will be developing just shy of 600 homes as part of the deal, said Ebbsfleet offered "a perfect mix between city and country living" and Dan Merriman, Land Director for Bellway Kent, said the housebuilder was "committed to building its own legacy in the area".
In addition to the residential sales, Henley Camland has also exchanged contracts on the sale of a plot to its sister company Henley Developments on an 8.75-acre site for a mixed-use development.
The developer has plans for a market centre within Alkerden Village comprising 60,000 sq ft to be made up of retail including a supermarket, leisure and F&B outlets. It will also oversee the building of 475 homes.
Peter Nelson, Managing Director, Henley Camland, said:
"The progress Henley Camland has made at Whitecliffe within the constraints of the pandemic, where we have been able to maintain the pace of progress and secure some significant signings, is a real statement of our intent and role within Ebbsfleet Garden City.
The sale to Henley Developments will be the sister company's first entry in to Ebbsfleet.
Warwick Hunter, Managing Director, Development and Asset Management at Henley, said the development of the market centre at Alkerden Village would act as a
"Catalyst to define a sense of place at Ebbsfleet and become a focal point for Ebbsfleet Garden City.
Henley Camland, which was formed in 2015 as a joint venture between Henley and Camland Projects, bought the Eastern Quarry site at Ebbsfleet in 2018.
30th September 2021.
Read the original full article at React News.